It's been a busy year for the Maltese property market, with lots of exciting developments coming online or introduced over the last 12 months already, as well as a number of regeneration projects to accommodate better infrastructure that will definitely improve the real estate market in Malta.
Where is the market going? Will it sustain the exponential growth it has experienced over the first six months of the year? And will the rental market continue to grow at percentages that have never previously been experienced on the Island. Let's find out.
To Buy or Rent?
Buying real estate in Malta and Gozo is still very popular. In fact, according to a recent study carried out by third-party consultant, where they sampled the population, it was found that 92.4% of people own their own home. Thus, the local tradition of opting to buy rather than rent looks set to continue.
First-time buyers will usually choose to purchase an apartment in an up-and-coming area. With the continued subsidies of stamp duty that the government has extended until the end of 2018, couples are still taking advantage and purchasing their homes before the deadline. One of the biggest market challenges at the moment, though, is that demand outweighs supply, so people can find it difficult to bag the apartment they are looking for in the budget they have available.
As a result, it is becoming more and more popular to buy property in Malta on plan. This option has a variety of benefits, including giving buyers more time to save towards their repayments, providing better value, and allowing for flexibility when it comes to customisation.
Second-time buyers, meanwhile, have quite a few options open to them, with several new developments planned, and a healthy variety of houses of character, townhouses and villas available. The plot size of new-builds are getting smaller but, if you look carefully, you will manage to bag the right second home within your budget constraints.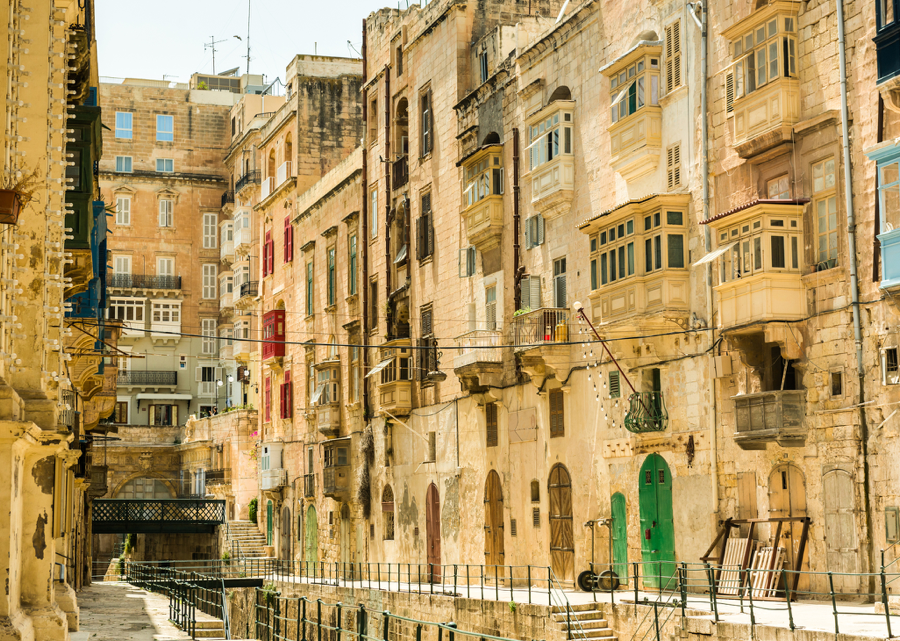 Up & Coming Locations
When it comes to buying the right property in Malta, so much comes down to location, location, location. At the moment, property in Sliema, St Julian's and Valletta remain the most in-demand locations anywhere on the island, which makes property here difficult to find and very expensive. The good news is that other parts of Malta have become more popular as a result, including Gzira and Msida for modern apartments, Lija, Balzan, Attard and Birkirkara for town houses, and San Pawl tat-Targa, Madliena and Mellieha for larger properties with pools. Both the north and south of Malta still offer opportunities to bag a bargain, while Pieta and Hamrun are tipped to be the most up-and-coming locations with plenty of exciting potential.
International Investment
Malta has become a hub for international property investment in recent years, with large numbers of global citizens choosing to buy property here – whether as their permanent residence, as a holiday home, or even as a buy-to-let. As a result, RE/MAX recommends the island's Special Designated Areas (SDAs). These developments don't place any restrictions on their foreign buyers, and provide high-end luxury lifestyles with everything from on-site pools and gyms to beautiful waterfront locations. A number of SDAs are due to open their doors in 2018, including new blocks within Tigne Point and Pender Gardens, as well as The Shoreline in the south of the island.
Several foreign iGaming employees, and now even those involved in Cryptocurrencies, as well as those in the financial sector, are seeing Malta as their long-term home and thus purchasing residences. With just these industries occupying over 12% of the GDP, and with huge potential for this to increase in light of the recent announcement of virtual currency regulation, Malta should not witness a market slowdown any time soon.
Maltese Owning Second Homes
According to a survey commission in June 2018, 16.4% of the Maltese population stated that they own a second
home locally, of which over 40% rent them out, another 15% use them an investment (probably by renting them out as well), while a further 40% stated that they use the property as their own holiday home. The main towns mentioned in the survey were St Paul's Bay, Marsascala and Sliema. Read more about how you can buy a second home in Malta.
Rental Problems for Maltese
It is a fact that rental prices have increased but salaries have not kept up in all categories. Foreign workers are now moving into new areas so to afford rental prices where Maltese usually rent, which means these areas are seeing increases and lower income earners are struggling to find affordable accommodation. Even though it has never been a better time to find a job than in today's economy, couples are still finding it struggling to rent a home if even for an interim period. Learn more about what to look for when buying a property to rent.
There seems to be a major gap between lower income and the middle-income earners.
Regulating rents will scare off both foreign and local investors, and will ultimately kill the market, so there is no easy solution to this problem – unless the Government creates one of its innovative schemes or reclaims or purchases several plots of land to build more housing estates.
Having stated the above, if any input is required in coming up with a solution, a certain obligation from industry stakeholders is there and all estate agents should provide their input for the better of the society.
A Positive Outlook On The Market
Looking to the future of property in Malta, the survey mentioned above touched upon the perception of the market through the eyes of the Maltese public. Out of the Maltese public that had an opinion about the real estate market, 70% agreed that there is a positive outlook in the Maltese property market. The majority agreed that there is
stability in the market and, in fact over 19% of the respondents commented that they were actually a first-time buyer, rental investor or looking to upsize or downsize.
There is so much potential in Malta. Rental prices are continuing to rise, so buy-to-lets make for a worthwhile investment and can provide annual returns of up to 5%- 6%. Quality is also on the up, with developers now taking pride in providing what their buyers are looking for – whether that's the very best finishes, customisable options and interesting layouts. Rental prices seem to be stabilising; in fact this is the first summer where the undersupply of property is low, thus meaning that investors are catching up and filling in the gap.
In the years to come, we expect the first high rises to come onto the market, which will also make things more dynamic and will likely continue to attract high-end international investment.
Finally
In conclusion, the real estate market is in a good place, international investment is at a high, the Maltese still believe in owning a home rather than renting, while foreigners that are renting are purchasing today. Six months is a long time and we will have to see what the market has in store for us. Several crossing variables may change everything but the future does look bright, not just for the next few months but for years to come. Read more about how to get the best out of your real estate agent in Malta.