Learn all about living easy when buying a home in Gozo when compared to Malta real estate as an investment when relocating to Malta.
Buying real estate on the small island of Gozo is an idyllic investment that not so many foreign investors know about. Hence, Malta real estate in Gozo is 'the Mediterranean's best-kept secret'.
About Gozo
Gozo is steeped in history and its history dates back to the beginning of time. The island's contrasting lifestyle is bound to leave a positive mark on any tourist or investor buying a hot property for sale in Gozo. 
Starting from its rugged terrain and spectacular coastline, bordering the transparent azure sea of the Mediterranean, only to give way to the beautifully decorated churches, Baroque palaces, museums. There are other historic buildings culminating in Victoria's extravagant citadel, which has played such a courageous role in Malta's chequered history.
Gozo lifestyle
The many products littering the shelves of its modern supermarkets vie to compete with the natural goodness of the island's bountiful farm produce. Where the sense of timelessness and apparent isolation, ideal for those buying Gozo property for sale to seek to escape the hustle and bustle of modern-day living, suddenly merge into the joyful festivities, replete with band marches and the colourful fireworks celebrating the village's Patron Saint, or the more profane traditional celebrations of Carnival, the Good Friday processions, the sporting celebrations or the Yuletide festivities.
Gozo inhabitants
Besides speaking good English, the islanders are so friendly and eager to please, that one immediately feels at ease with the place and its inhabitants. This is undoubtedly due to the fact that everybody, who has been somebody in the Mediterranean region, has at some time or other, occupied Malta. And the natives have learnt to live and assimilate with the conquerors, making the Maltese Islands one of the earliest Cosmopolitan centres. For example, after the demise of the Neolithic culture, the islands were in turn inhabited by the Phoenicians, Carthaginians, Romans and Arabs respectively. These were followed by the Normans, the Knights of St John (also known as the Knights of Malta), the French and the British.
This might explain why unlike other countries there are no enclaves for a particular nationality in Malta. On the contrary, on an island like Gozo everybody makes it a point to mix with one another and that includes the local population.
Culture of Gozo
Regarding culture suffice it to say that this island of circa 27,000 people boasts of not 'one' opera house – and that would be a significant feat in itself – but 'two' lyrical houses which thrive on volunteer assistance making the island a truly cultural hub.
This readily explains why over the past decade there has been a steady stream of people who have chosen to buy real estate and relocate to Gozo either to enjoy their retirement in a place where 'the living is easy' or else to purchase a second home in which they and their friends may enjoy 'the best-kept secret of the Mediterranean'.
Property in Gozo
The choice of Gozo property types may be as varied, and as contrasting, as the nature of the island itself. Among those who want to relocate to Gozo, chances are that they would go for the luxury type of dwelling, which would consist mainly of an old house of character for sale or a converted farmhouse with a swimming pool. In this respect, it's worth mentioning that there is an abundance of technical skills available, and that labour charges are probably a quarter of what one pays for the same job anywhere else in Gozo. Learn more about the 9 most popular types of property in Gozo.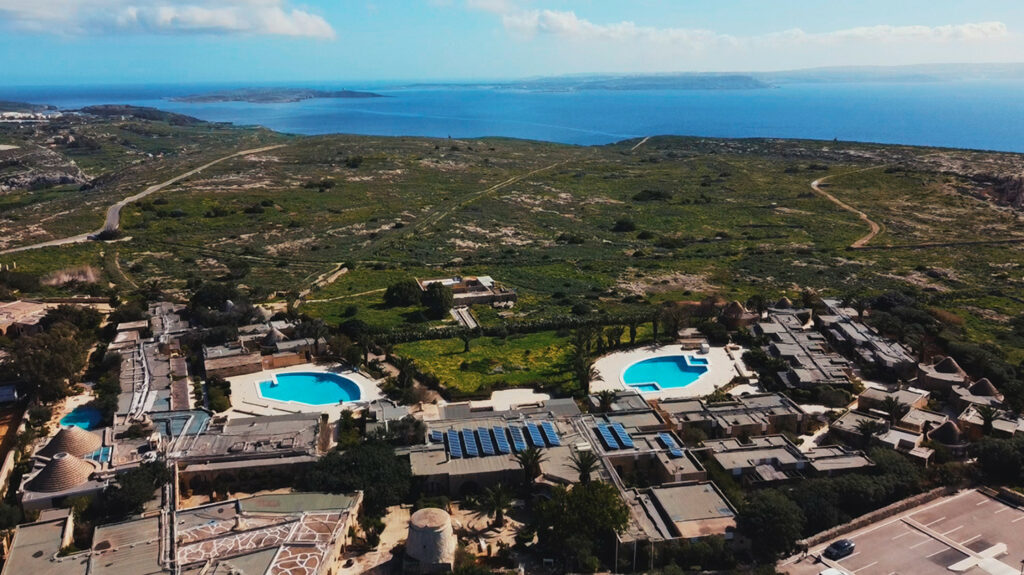 Second home buyers
Buyers of second homes may be more interested in purchasing a modern apartment, a terraced house or a two- or three-bedroom hilltop flat overlooking some rural valley or the magnificent Mediterranean. And on this 14.5 km long and 8 km wide island you may rest assured that the sea is never far away from where you live!
Luxury real estate
And whether it's a 'standalone' or an apartment that takes one's fancy, the pricing is deemed quite reasonable. Having just scoured the local papers in preparation of this feature I can see that the pricing range is approximately €80,000 for an apartment, €200,000 for houses of character while the luxury villas and state of the art bungalows range between €450,000 to €600,000.
This to me seems a fair price for living the lazy life in a such a vibrant yet charming environment, where the old traditions seem to have adapted so splendidly to the demands of contemporary society and where everything you need is just minutes away from where you are.
Incidentally, I have also learned that the good-natured neighbours have no problems with looking after vacant Malta properties when the owners are away.