If you're thinking of selling your home, a staging session with RE/MAX Malta's exclusive home stylist could make all the difference. Here, Fiona Caruana Carabez offers her tips on how to make your home stand out from the crowd through fantastic styling and photography.
The property market is a very busy place and, if you're hoping to sell your home, then you may be looking for a way to make it stand out among the many properties currently on the market.
Home styling – or 'home staging' as it's professionally referred to – will help to do that very effectively by making your home look beautiful ahead of a viewing or when photos of it are taken.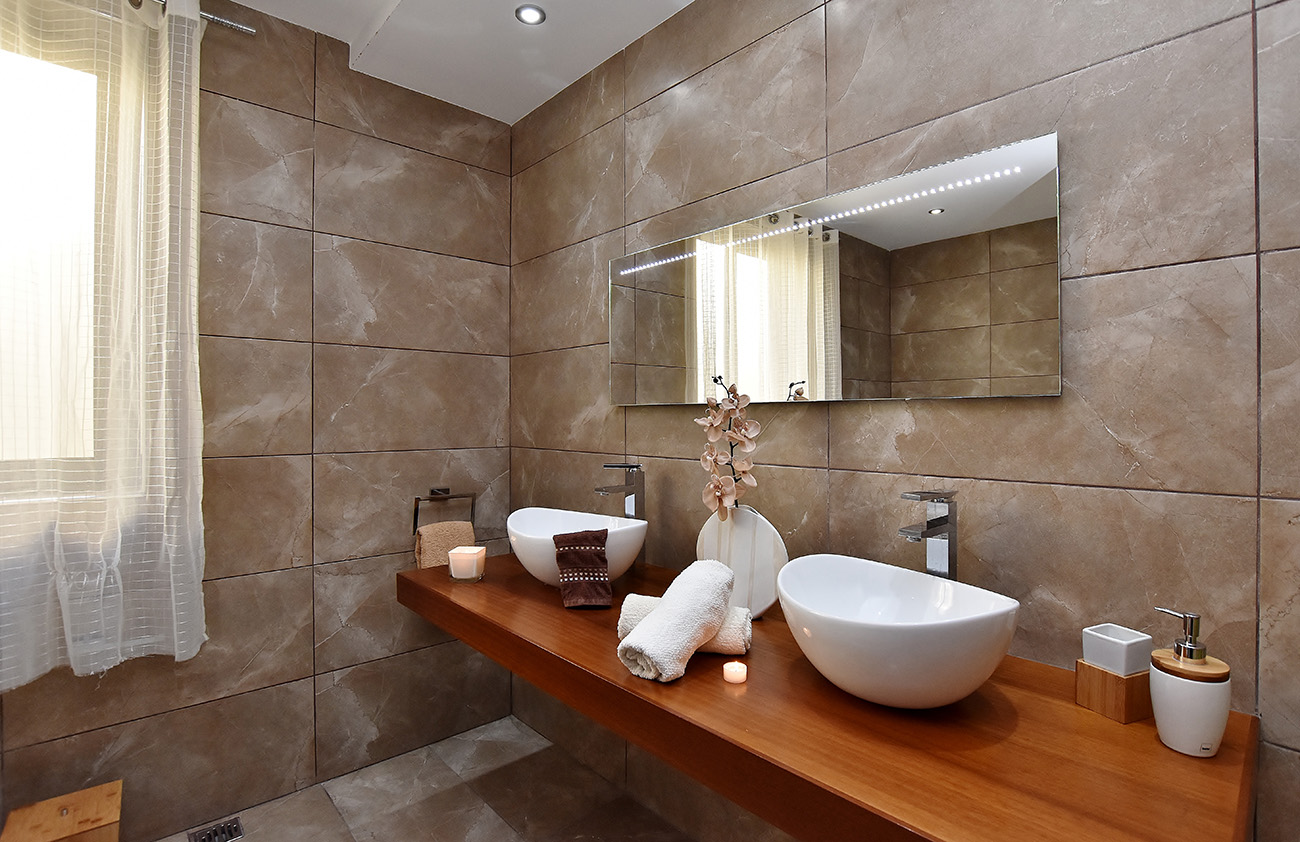 Professional home stager Fiona Caruana Carabez – who styles homes and provides 3D imagery on a complimentary basis for RE/MAX Malta's Exclusive Listings – explains that staging is crucial, as it allows potential buyers to get a real feel for your property and to experience all its charm and character.
"Unfortunately, many homes aren't properly presented when they're put on the market, which can result in a tremendous loss in offers and even less cash in hand," says Fiona, who runs ConceptsCarabez.
"A cluttered, badly-presented property makes potential buyers feel as though they are looking at something that isn't worth buying. This is because many people aren't able to look beyond daily clutter to appreciate what they are actually looking at. It's similar to having a car for sale – most people will clean this car inside and out, and possibly even give it a polish, before putting up the For Sale sign. Sadly, this rule doesn't often apply to homes being put on the property market."
When Fiona takes on a staging project, she starts by making it clean and clutter free, and stores away a number of personal items, including family photos. "My aim is to bring the property to a neutral state; one which is more appealing across the board," she says. "This helps potential buyers to fall in love with the house and to see themselves living here. When you're selling your property, you do need to make some sacrifices in the short term to show it in its best light. In the long term, it will help sell your home quicker and to secure better value for it."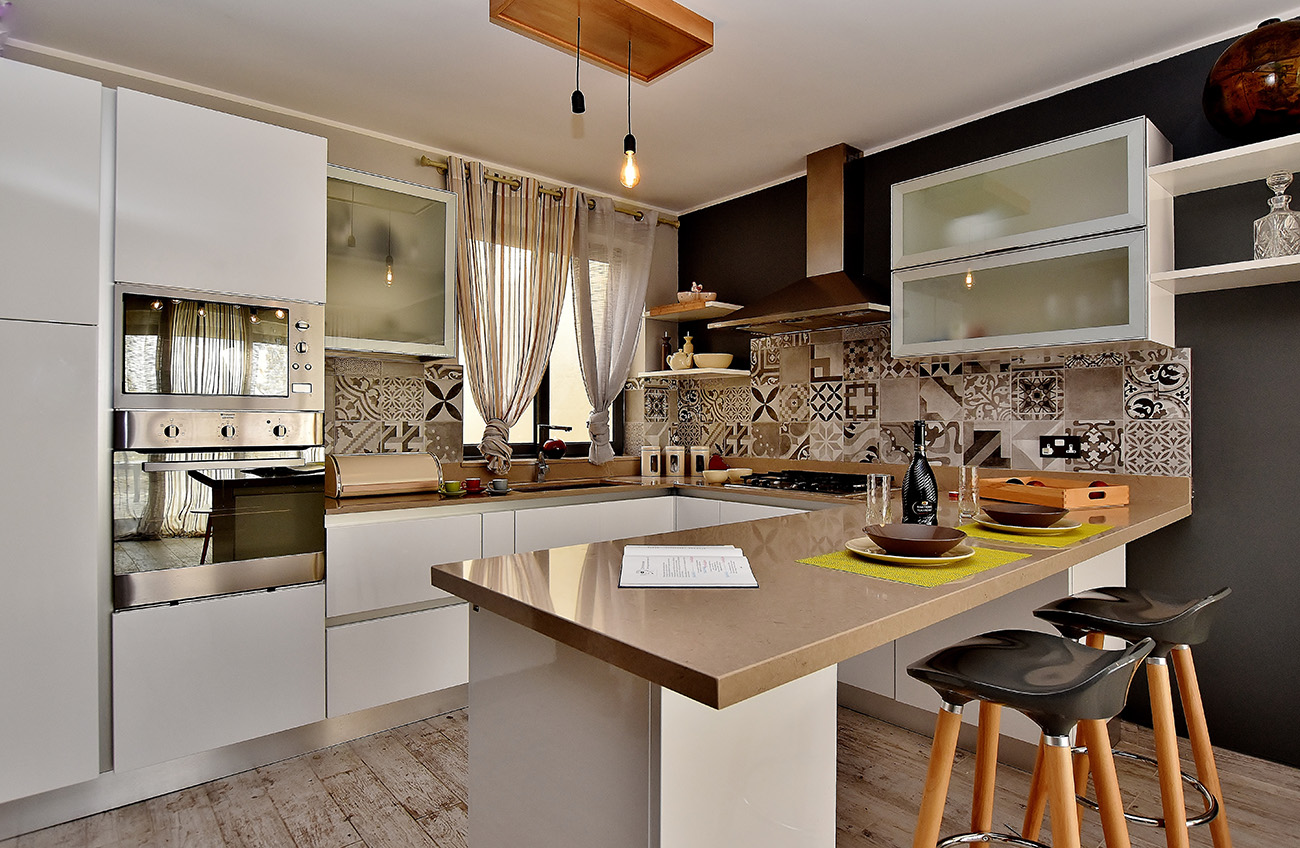 Fiona, who is originally an interior designer who started home staging eight years ago, loves seeing the difference that the process can make. She has staged everything from small apartments to massive villas, as well as restaurants, pharmacies, offices and boutique hotels. "Every property can benefit from staging, and all properties can look fabulous when they are staged."
And now it could be your home's turn – with RE/MAX Malta's Exclusive Listing package. "Sellers in this category get their home staged and professionally photographed for free, which means potential buyers get to see it online looking its absolute best. Every room in the house is decluttered, staged and photographed.
This encourages buyers to make that all-important appointment for a viewing and, hopefully, to make a sale too!" Fiona adds.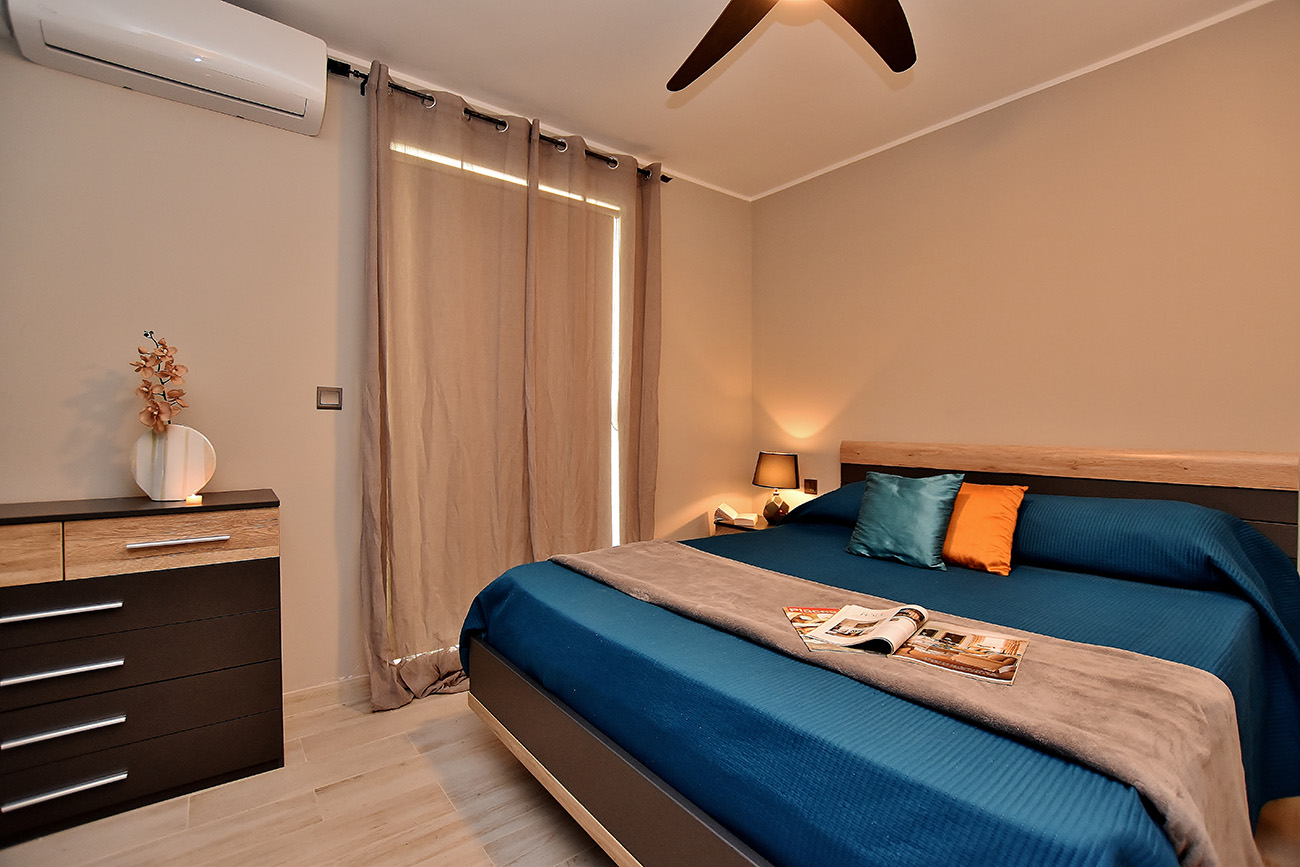 Staging Your Property? These are Fiona's Top Tips
Start by decluttering – and begin with your cupboards, drawers and wardrobes. Once they're clear, you'll have somewhere to put your everyday things prior to a viewing.
Take a set of photos of your property. Seeing your normal surroundings in a photo will put a very different perspective on this. It is astonishing how the pile of papers on the kitchen counter seems perfectly normal to you, until you see it in a photo.
Remove personal photos. A potential buyer needs to be able to see themselves living in the house. Your photos only serve to remind them that this is your house.
Clean, clean and then clean again. A property that is for sale should be immaculate. Scrub the grout in the bathrooms, take down the curtains and have them laundered, and get your carpets cleaned. Buyers love to walk into a clean, fresh-smelling home.
Get out your best linen and make your beds. You're out to impress your buyers on a viewing.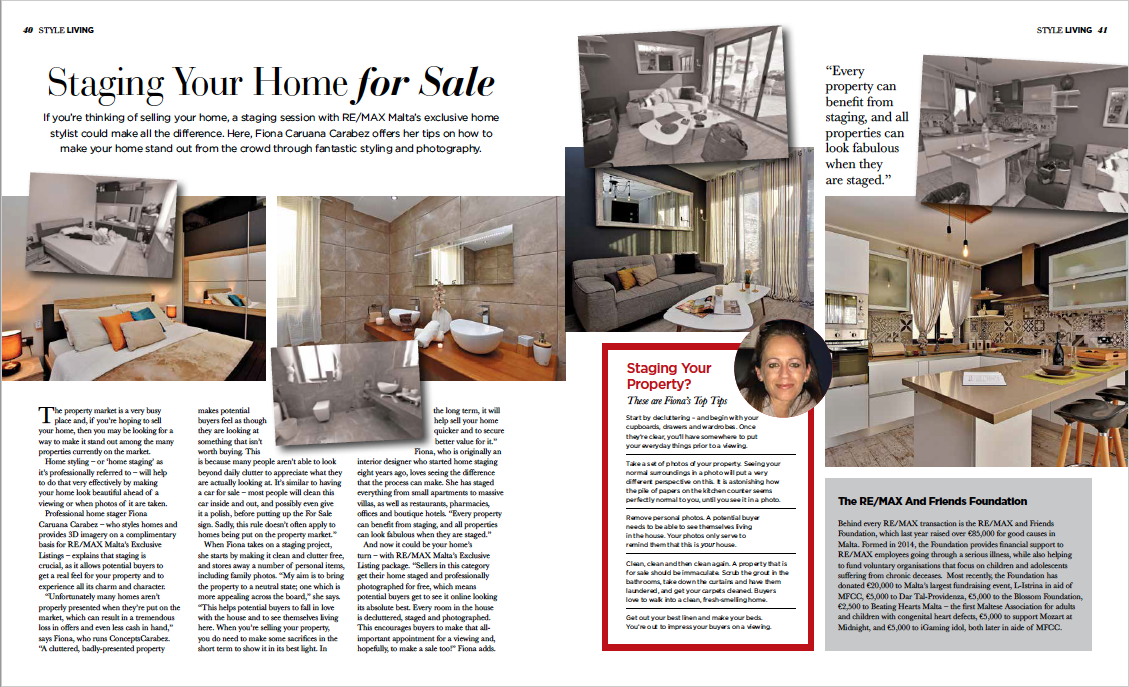 The RE/MAX & Friends Foundation
Behind every RE/MAX transaction is the RE/MAX and Friends Foundation, which last year raised over €85,000 for good causes in Malta. Formed in 2014, the Foundation provides financial support to RE/MAX employees going through a serious illness, while also helping to fund voluntary organisations that focus on children and adolescents suffering from chronic deceases. Most recently, the Foundation has donated €20,000 to Malta's largest fundraising event, L-Istrina in aid of MFCC, €5,000 to Dar Tal-Providenza, €5,000 to the Blossom Foundation, €2,500 to Beating Hearts Malta – the first Maltese Association for adults and children with congenital heart defects, €5,000 to support Mozart at Midnight, and €5,000 to iGaming idol, both later in aide of MFCC.
You want to sell your house, call in an estate agent, set a price and expect the miracle to happen. But when the Malta real estate agent brings viewers along, they give an indifferent glimpse round, ask a couple of lame questions, nod and leave.
Are you amazed nobody seems interested to buy your property? Perhaps this attitude indicates that you should start looking at your house from the viewers' perspective.  Go outside, right across the street and look carefully at your home's exterior.  Does it look clean and welcoming? Are your house viewers getting a good impression of what awaits inside?
Walk inside. Does it smell of eggs and bacon, yesterday's leftovers, cigarette ash and cats? Are the walls begging for a whitewash, are the curtains hanging off odd hooks and looking old? Does the sofa look like a ton of bricks sat in it? Does it have gnawed corners? Is the carpet frayed and sitting awry on the floor?
Continue with this soul-searching exercise by walking around your home, going through the kitchen, bathroom/s, bedroom/s, wash room  garden, etc. If you've been careless about your property in Malta, chances are your potential buyers of your property viewing your home  feel this too and you will need to do something to change a nasty first impression if you want to get a sale any time soon. Yes indeed, you will need to invest a little time, energy and money in re-ordering the house. If you haven't time or energy to spring-clean, hire a cleaning company or a staging expert to do the job for you. Meanwhile you can do some of these chores:
– Give the facade a whitewash, clean the front garden of weeds, and if it's just potted plants you have, make sure they look thriving. Buy new ones and if you haven't any, get them anyway to liven up the works.
– Wash that front door down or give the old wood some polish. Even a polished and shiny brass knocker makes a difference.
– Revamp the letter box and get a new door mat.
– Air the house.
– Remove clutter, throw out old magazines, put away dirty shoes.
– Wash and iron curtains before hanging them up properly. If they are old and dreary, buy cheap new ones just to refresh the feel of your rooms.
– Get new covers for the cushions.
– Re-organise books on shelves.
– Move furniture around to make more space.
– Add vases of fresh flowers and use air freshening gadgets.
– Check that chandeliers have working light bulbs.
– On visiting day make sure bathrooms are clean and towels are nice and crisp-looking.
– Don't cook pungent foods and avoid fries, fish, onions or burnt toast. Instead make buttery toast (not the burnt version), a pie or a stew – people love homely smells which make them feel welcome.
– Avoid having loud music/TV while people visit.
You'll be amazed what a little investment can do for the potential sale of your property in Malta.  Your property will immediately attract more interest from your real estate agent providing you a better chance to bring in more buyers to your door.……unless of course you fall in love with the house again and decide to keep it!
For more info about staging your home consult with a reputable real estate agent in Malta, or you may choose to list your property as an Exclusive Added Value listing with RE/MAX, where you may utilise the services of the only Professionally accredited Home stager in Malta, Mr. Fiona Caruana Carabez.
Marika Azzopardi is a freelance writer and journalist. A frequent contributor to national English language papers and magazines, she writes about a bevy of topics including art, people and life in general. She is also the author of children's books and short stories, delving into adult fiction from time to time.